McDavitt Family Historical Page


Franklin Coon
1831-1864
Died as a result of wounds in the Civil War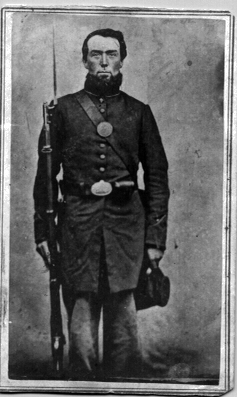 Franklin is believed to have been buried in this cemetery
---
CIVIL WAR CEMETERY
Jeffersonville Township, Clark County, Indiana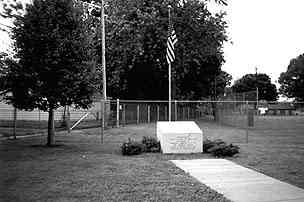 Marker at Old Civil War Cemetery
near downtown Jeffersonville
---
Close-up of Civil War Cemetery
(transcript below)
The old Civil War Cemetery near present-day downtown Jeffersonville was located on what is now Mulberry Street (about 2 blocks south of the Hardee's on Court Street). The cemetery is located on what is now a children's playground behind Rosehill Elementary School.
According to the above monument, the Union and Confederate dead buried here were NOT exhumed; however, it is possible that the bodies were, indeed, moved to Walnut Ridge. This has not been confirmed, but bears investigation.
There stands today a large stone marker adjacent to the fence around the playground with the following inscription:
"On this site, 1861-1865, are buried several hundred Union and Confederate soldiers, killed in the Western campaign. Lack of interest from distant families allowed deterioration of the wood grave markers and heavy overgrowth. In 1927, the Jeffersonville Council determined, 'Better the sound of children's footsteps at play than the silent stride of the nearly forgotten great spirit army here at rest.' The only intact stone marker was moved to Walnut Ridge Cemetery. No bodies were exhumed."
"Presented by Frank R. Kossa, Col. (Ret.) USAR, on behalf of Lawrence Capehart Post 35, The American Legion, Joseph M. Bittner Post 1832, Veterans of Foreign Wars."
---