McDavitt Family Historical Page


Donald Eugene McDavitt
February 25, 1905 - March 22, 1982
Gladys McDavitt
July 14, 1905 - December 31, 1995

Don & Wife Gladys
Don was a farmer with 160 acres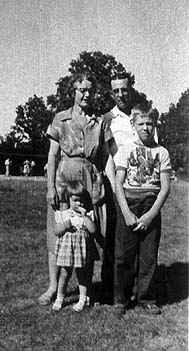 Donald, Gladys and son Danny (Adopted) and daughter Judith Ann

(Born August 24, 1948 - Died July 22, 2016) Judith's obituary below.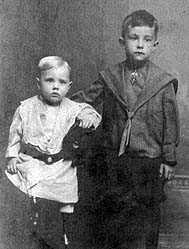 Donald and brother Glenn McDavitt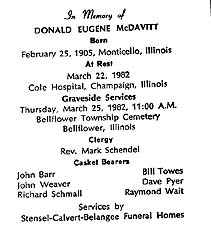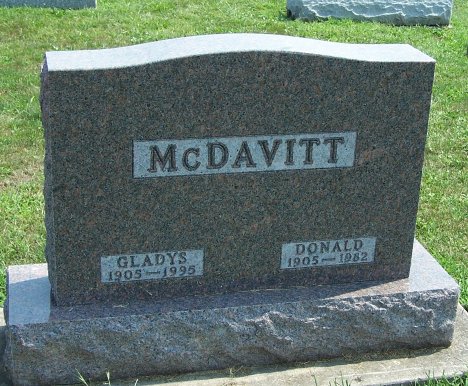 Don & Gladys are buried in the Bellflower Township Cemetery, McLean County, Illinois
=========================
Judith Ann McDavitt Weaver

Judith Ann "Judy" McDavitt Weaver, 67, of Monticello, formerly of the Osman and Bellflower, IL area, passed away at 12:55 A.M., Friday, July 22, 2016 at Carle Foundation Hospital, Urbana, IL.
A graveside memorial service will be held at 11:00 A.M., Wednesday, July 27, 2016 at Bellflower Township Cemetery, Bellflower IL with Pastor Louella Pence officiating. Following the graveside service, a Celebration Of Life gathering will be held from 1:00-3:00 P.M. at the Monticello Bowl, Monticello, IL. In lieu of flowers, memorials may be made to St. Jude's Children's Research Hospital in memory of Judith Ann Weaver. Calvert-Belangee-Bruce Funeral Home, Farmer City is in charge of arrangements.
Judy was born August 24, 1948 in Urbana, IL a daughter of Donald Eugene and Gladys Margaret Schmall McDavitt. Survived by her brother, Daniel (Vicki) McDavitt of Farmer City, IL; several cousins; and the love of her life for the last 15 years, Michael Downey of Monticello, IL. Judy is preceded in death by her parents.
Judy graduated from Bellflower High School class of 1966. She worked for 30 years as a secretary for Piatt County Service Company, working out of offices in Monticello, Mansfield, and Bement.
She was a life member of Weight Watchers. Her hobbies include fishing, stock car and NASCAR racing, and minor league baseball games. Judy enjoyed spending quality time with the love of her life, Michael Downey.